Under California blue skies, the Patagonia outdoor clothing brand's corporate campus is bustling with its usual mix of employees, pets – and kids.
Situated in Ventura, north-west of Los Angeles and close to the beach for surfing purposes, the sprawl of neutral-colored stucco buildings is very on-brand for a business with a cult following among environmentalists. Wood-lined interiors make the offices feel more cabin than corporate. Blown-up posters from past marketing campaigns line hallways. "There are no profits to be made on a dead planet," reads one from 2004.
Employees hold meetings on picnic benches outside. A playground of Patagonia-adorned children, part of the company's childcare program, abuts an office building. Dogs on leashes trot around with their owners. Further down the road, tourists browse through colorful jackets at the first Patagonia retail store, which opened 50 years ago in 1973.
On the surface, all appears to be business as usual. But over the last six months, Patagonia has been wrestling with an existential dilemma that has long obsessed the company: can the group sincerely fight the climate crisis as a for-profit apparel company?
"If you're serious about [the climate crisis] and this is your business, you've got to develop a level of comfort with contradiction," said the chief executive, Ryan Gellert, sitting in his wood-paneled office. "The idea of ultimately running a regenerative business, that is the biggest idea that we're capable of, and we're a long, long way from realizing that."
The company made a big step toward realizing that big idea last September when Yvon Chouinard, the rock climber turned founder of Patagonia, announced that his family will reshape the way it controls the privately held company. Under the new structure, 2% of the shares and all decision-making authority has been transferred to a family trust, giving the Chouinards continuing control over corporate decisions and the mission. The rest – 98% of the stock, worth about $100m a year in dividends – will go to a new non-profit, the Holdfast Collective, focused on climate activism, including political advocacy.
Patagonia will soon have three core activist segments. As it has since 1985, the company still donates 1% of its revenue to community-oriented, grassroots environmental groups through small grants, worth up to $15,000. The creation of the Holdfast Collective introduced a second activist arm, a non-profit that will funnel larger grants and donations in the millions.
Then in April, the company will formally launch a third activist unit, Home Planet Fund, a non-profit that will fundraise and funnel money to those fighting climate change in isolated and fragile regions, with particular attention to Indigenous communities.
"We're all orienting in our different roles toward the same goal," Gellert said. "We look at the 1% giving as walking the countryside, spreading seeds. Now all of a sudden, we've got something really significant … The money is in the process of going out the door right now."
Over the years, the company has grown into one of the largest outdoor apparel brands with more than 70 retail stores globally and nearly $1.5bn in yearly revenue. Business analysts say the company has grown quickly, particularly when compared with competitors like The North Face, in part because it has a history of being vocal on the environment.
Gellert is aware of the skepticism that comes from those who look at Patagonia's donations and see a brand doing effective marketing. His management team has long grappled with how growth interacts with, or even contradicts, environmental activism.
"For years, I was tormented by the realization that my own company, dependent on the consumer economy, was responsible for some of [the] overabundance of goods," Chouinard wrote in a 1995 essay. He decided his business could be a model in "taking the long view and doing the right thing".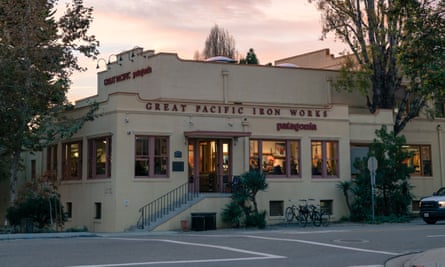 In 2002 Chouinard co-founded One Percent for the Planet, which has convinced other businesses to donate 1% of their sales to fighting climate change. He was an early adopter of making clothing with organic cotton, recycled materials and fair trade labor. Patagonia invests heavily in overseeing its supply chain, with a particular focus on labor rights and environmental impact, and has conducted research on its own problems in both sectors.
Patagonia has also been vocal about the effects of climate change, funding documentaries, suing the federal government over protection of a national monument and boycotting advertising on Facebook and Instagram because their parent company, Meta, has failed to stop the spread of "hateful lies and dangerous propaganda" on its platform. It's a move that the company says has negatively affected sales.
Now Patagonia is trying to send perhaps its most radical message to date – that corporate profits need not always go to share buybacks, outsized CEO pay, yachts or sending rockets to Mars.
"At some point, when this set of options was coming together, that's when we started asking ourselves, 'God, this structure is so often used for a different set of purposes. What would it be like to change the narrative around this structure?'" said Gellert, who was part of the small group of advisers who helped the Chouinard family come up with the ownership structure.
The Holdfast Collective is set up as a 501(c)4, a type of non-profit under the US tax code that does not need to pay federal taxes and can spend on political lobbying and advocacy (as opposed to standard non-profits, which are prohibited from engaging in political campaigns).
In the last decade, these type of non-profits have most often been used by conservatives. Last year, the New York Times reported that Barre Seid, the owner of electronics manufacturer Tripp Lite, sold the company for $1.6bn and gave all the proceeds to a 501(c)4 dedicated to Republican causes, including appointing more conservative judges to the supreme court.
Over the past few years, more foundations and billionaires have been donating large funds to fighting the climate crisis. In 2021, $3.1bn of foundation money went toward climate mitigation. The roster of donors includes wealthy individuals whose sources of wealth come from companies often criticized for environmental impact, like Amazon's Jeff Bezos, who set up a $10bn grant for the Bezos Earth Fund. And among Chouinard's peers, the late Doug Tompkins and his wife, Kris McDivitt Tompkins, the first CEO of Patagonia, had in the 1980s acquired large swaths of land in Patagonia, the national park in Chile and Argentina the clothing brand is named after, for conservation purposes.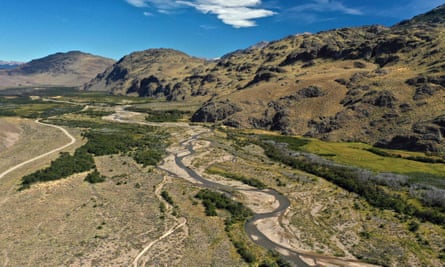 Though Chouinard is joining a growing group of climate philanthropists, Ash Enrici, a professor at Indiana University who researches climate philanthropy, said the new ownership structure sets him apart from other donors, because the sums are not capped.
"The family is giving away the source of their wealth … This is in perpetuity, and I think that it's precedent setting, more so than the amount, the example that sets for other donors," Enrici said.
Some non-profits have been criticised as ways to avoid tax, or as sources of "dark money" for political purposes because they do not have to disclose who funds them. Patagonia said the Chouinard family paid $17.5m in taxes for the funds that went into the family trust and that they were not looking for a structure to purposely avoid taxes.
Enrici, referencing a 2021 book by Beth Breeze titled In Defense of Philanthropy, noted that the debate around taxes and foundation giving has been going on for years.
"There's this conversation like, do these foundations have a fundamental right to exist? Should they even be in existence in our society?" she said. "I think that's a fair question for people to be asking. I also think we desperately need somebody to be helping with the climate and conservation."
Patagonia leaders, including Gellert, said they are used to taking the criticism that comes with being a for-profit business trying to put up a genuine fight against climate change.
"Making products creates a huge mess, with horrible impacts around carbon waste, water, biodiversity, social justice – what can we do to try to address that? There isn't a master playbook that we can get from a consultant or off a shelf somewhere," said Helena Barbour, head of the company's sportswear division.
Those working for the company will be the first to admit that even with its profits going to fighting climate change, it still has more to figure out. Like its carbon footprint, most of which comes from the mills that make its materials. Patagonia is also looking at regenerative agriculture, specifically organic cotton, and growing its used products and repair programs, which aim to lengthen the life of its materials.
"I want us … taking responsibility for [our] product and ultimately create as closed of a loop as possible for the materials that we use," Gellert said. "In doing that, there is a point where we're probably starting to cannibalize new product sales with second-hand [sales], and that's a problem I embrace."
Perhaps one of the biggest problems Gellert is still trying to figure out as Patagonia reaches 50 years in business is how to collaborate with other companies, competitors even, on initiatives that would decrease the environmental footprint of the industry, particularly when it comes to carbon emissions.
"I've got two young kids, and I'd be foolish to tell you that I thought my kids are going to enjoy a planet that is in remotely the same shape as the one I've enjoyed in my life. It's incredibly sobering," Gellert said. "I think we have lost the right to be pessimistic and just sit around and say, 'I guess this isn't going to work out.' We just don't have the right to do that given what's at stake."