Built in 1961, the downtown Montreal highrise housed insurer Standard Life's Canadian head office from 1962 until 2015.
Article content
A historic Golden Square Mile property could soon have a new vocation at a time when the housing crisis in Quebec's biggest city shows no sign of ebbing.
Article content
NexArm Investments, a Nova Scotia-based corporation controlled by Canada's wealthy Armoyan family, acquired the former Standard Life tower at 1245 Sherbrooke St. W. from Toronto-based insurer Manulife last week, the Montreal Gazette has learned. Financial terms of the transaction weren't disclosed.
Article content
The goal of the new owners is to convert the 21-storey office building into a rental apartments property, said George Armoyan Jr., who oversees the family's real-estate assets and projects in Quebec, such as Mascouche's Station G condominium complex. Demolition and transformation permits will be sought from the city as soon as possible, he said.
Built in 1961, the tower housed insurer Standard Life's Canadian head office from 1962 until 2015. It was one of the first skyscrapers built in Montreal that was designed entirely by a local architecture firm. The building's historical value is partly due to its lasting association with the U.K.-based insurance company, which set up shop in Canada in 1833. Manulife bought Standard Life's Canadian assets in 2015.
Article content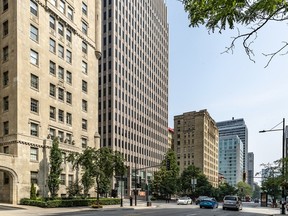 "This is the type of asset you want to hold for the long term," Armoyan Jr. said in an interview with the Gazette. "You can't beat the location, and the views are incredible. Our goal is to convert this building right away. We want to use it almost as a laboratory and figure out a recipe for doing conversions, because we see office-to-residential conversions as a sector that has a huge potential."
Armoyan Jr. said his family paid more than the $33-million valuation listed in the latest property assessment roll. He wouldn't provide specifics.
Once converted, the building would probably include 200 to 250 residential units, and its granite exterior would remain unchanged, Armoyan Jr. said. One floor would be reserved for NexArm's offices.
Article content
"Our goal is to do minimal changes," said the investor, who lives within walking distance of the skyscraper. "The city has mentioned that since our intention is to keep the external structure, they believe that they will be able to fast-track the project for us.
"All we are going to do is interior work. There are going to be surprises — there always are in construction. There will be costs, but we think this is going to be a good opportunity to learn. We're opportunistic investors. We never shy away from things that have a bit of a challenge."
Armoyan Jr. sees the proposed redevelopment as a chance to raise his family's local profile. Besides Station G, the Armoyans are involved in residential projects in LaSalle and St-Jovite as well as Le George, a 700-unit apartment building next to the Bell Centre. 
Article content
"We're fairly low-key, but this project will be a good opportunity to plant the flag," he said. "We're actively looking for other deals. We've been touring other assets to see where there are some redevelopment opportunities."
Although turning office buildings into residential properties is no easy task, 1245 Sherbrooke's dimensions make it ideal for a conversion, Armoyan Jr. says. Key features include large windows and floor sizes of about 12,500 square feet (1,160 square metres), he said.
"Windows determine how your units can be laid out, and the windows here are massive — over three feet wide, floor to ceiling," he said. "The units are very bright because of the window size. The size of the floor plate is quite adequate for residential, and all the services are in the central space. The building has a lot of the criteria for a conversion."
Article content
Asked about timing, Armoyan Jr. said he's hoping tenants can start moving in about 18 months after construction begins.
"Obviously, the biggest X factor is going to be the city and their willingness to give the approvals on the project," he said. "Preliminary conversations have been positive, and hopefully that is maintained."
Béatrice Saulnier-Yelle, a spokesperson for Mayor Valérie Plante, said the Ville-Marie borough will "work with the owner" to evaluate the project proposal.
"We look favourably on landlords seeking to occupy and revitalize downtown buildings," she said Wednesday via text message.
Office vacancy rates downtown could approach 25% by 2025: forecast